A new drawing of the proposed £9m office development at Newport's £100m Celtic Springs Business Park has been released.

Experts believe the 35,000 sq ft, three storey, six 'wing', CS 3000 development, adjacent to where defence business EADS is establishing a major new centre, could act as a 'catalyst' for the creation of a supplier cluster.

The speculative development, which is either for sale or lease, has the potential to generate some 350 new jobs at the 45-acre park adjacent to Junction 28 of the M4 motorway.

The office development joins an £11m, 120-bed, luxury Ramada Plaza hotel and children's day nursery which are also being built on the plot at the business park site.

Altogether the three developments are expected to create some 500 new jobs and lead directly to the generation of scores more ancillary employment opportunities to service the various developments.

And a total of some 300 people are expected to be employed during construction of the projects until the end of next year.
Building work on the three storey, CS 3000 office block is due to be completed by summer 2007. The hotel, with conference centre, leisure and swimming pool and the children's nursery, will be completed shortly afterwards.

The expansion of the unique business park, which attracts Tier Two regional selective assistance, is being brought forward by developers AWG property and Broadhall.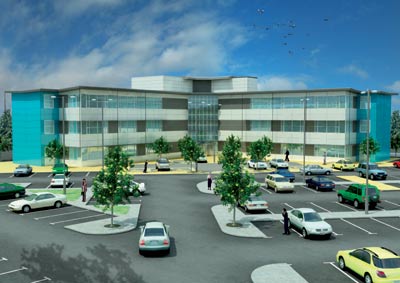 Speaking on behalf of AWG and Broadhall Iain Logue, Operations Director at AWG Property, said: "We were delighted to have achieved three planning consents at the same time and we are now raring to get going with construction of the hotel, children's nursery and the CS 3000 office block.

"The 35,000 sq ft, CS 3000 office block is the only grade A building of its type currently on offer across south Wales and, as such, we are expecting keen interest to be generated.

"The privately funded development of this speculative development is a solid and highly visible vote of confidence in the city of Newport and its future."

Individual contracts are expected to be awarded for construction of each of the three different developments at CS 3000.

Joint marketing agent Robert Carew-Chaston, Chairman of Hutchings and Thomas, said CS 3000, could prove of interest to those looking to supply defence business EADS which is constructing a headquarters building adjacent to the Celtic Springs Business Park.

Mr Carew-Chaston said: "CS 3000 is being built to an extremely high specification. There is no other building currently on offer in South Wales that comes near to it in terms of what it can offer.
"We are confident that CS3000, with its ideal location a matter of metres from EADS, will be of interest to those hi tech businesses operating in the specialist field of defence and related industries.

"We believe the development could act as a catalyst for others interested in supplying EADS and prompt the creation of a kind of cluster at Celtic Springs"

Matthew Phillips, Managing Partner of Knight Frank, said: "There is a real shortage of office space in the south East Wales market and the fact that AWG and Broadhall are willing to speculatively commit to building 35,000 sq ft is testament to their commitment to the business park and Newport itself.

"The provision of the additional facilities, such as the luxury hotel and the children's day nursery, adds further to the attraction and to the benefits for those locating to this unrivalled park."

Hutchings & Thomas and Knight Frank are joint marketing agents for Celtic Springs Business Park.
For more details contact Robert Carew-Chaston on 01633 214444 or Matthew Phillips at Knight Frank on 029 2049 2492.