HM Prison Service (HMPS) are getting set to make the move into their new HR and Financial and Procurement Shared Service Centre building at Celtic Springs Business Park, Newport following a speedy fit out and hand over by AWG and Broadhall

Joint developers AWG Property Ltd and Broadhall Hampton Ltd have been pulling out the stops to ensure that the Prison Service can meet its deadline of being open and ready for business on 28th April 2006.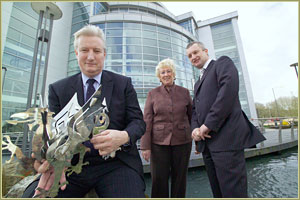 HMPS will lease the park's flagship building CS1000, the three-storey 54,000 sq ft office building situated at the entrance of the park. The building was recently sold as part of a single investment package deal to Britannia Invest A/S, along with CS2000 for £21.3 million.

The move brings 500 new high quality jobs to South East Wales. With current occupiers Integra Office Solutions and Wales and West Utilities on schedule to move into their new headquarters building on the park in June 2006, the total job count will total more than 1,000 - adding significantly to Newport's aim to create 10,000 new jobs in the next 10 years.

Steve Hodgson, Head of HMPS Shared Services said: "We chose Celtic Springs after a thorough and robust selection process. Our criteria included good transport links, the quality of the building itself and the ability to attract the right calibre of workforce - Celtic Springs ticked all those boxes. In addition, we were impressed by the support we received from local development agencies and the commitment of the team to get the building to us on schedule."

Iain Logue, Operations Director, AWG Property Ltd, said: "We look forward to welcoming the Prison Service to the park and are delighted that we have been able to accommodate them to meet their deadlines and high standards.

"Celtic Springs Business Park has proven to major employers that it can provide top quality office accommodation to the highest specifications. A detailed planning application has been submitted for CS3000, that will provide a further 120,000 sq ft of superior office accommodation on the park, with a commitment by us to speculatively develop a 35,000 sq ft building that will be ready for occupation by Spring 2007."

"It is our objective that Celtic Springs becomes one of the most prestigious business parks on the UK and acts to service both national and local companies alike."

The £100 million Celtic Springs Business is a joint venture between and AWG Property and Broadhall, with partners Newport City Council and the Welsh Development Agency.

Hutchings and Thomas and Knight Frank are joint letting agents on Celtic Springs.