South Wales developer Broadhall based in Chepstow has submitted a detailed planning application to design and build a high quality office development on Langdon Road situated in the exciting new SA1 waterfront development in Swansea.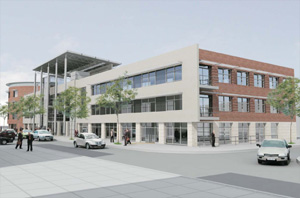 The 41,500 sq ft development will be designed by Ellis Williams Architects to the highest architectural standards and will offer 12 individual units of between 2,475 - 4,845 sq ft that will be available to buy or to let. The units will have the added advantage of being designed around a stunning central glass atrium that will provide each with their own front door.

Utilising materials such as slate, glass and stainless steel, the building will be based on three floors interjected with two and four storey areas to provide a visually impressive backdrop to the working environment.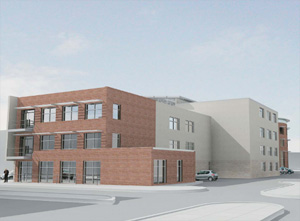 The flexibility in sizes will make it the ideal location for small to medium sized businesses looking for a superior working environment in the heart of the commercial district of what is becoming Wales' premier waterfront location.

Along with it's own excellent car parking for 110 cars, the location also offers superb transport links with easy access to central Swansea and the M4 corridor.

Michael Davies of Broadhall said:
"This development is proving extremely popular, which we are delighted by. We have received a high number of enquiries prior to the planning application being submitted and if successful we hope to announce new occupiers shortly.

"As with all our Office developments such as Talbot Gateway just off junctions 41 and 42 of the M4 and Celtic Springs off Jct 28 of the M4, we are continually aiming to deliver a building that offers an excellent working environment for all and we are pleased to have been chosen to deliver this as part of such a lively, attractive, waterside development that as a whole fosters a high standard of urban design and architecture."

The land is currently owned by the Welsh Assembly Government, with Broadhall selected as the preferred developer to make the purchase and deliver the high specification office building that is required to offer flexibility in the sizes of the office suites and a low energy consumption working environment that will optimise natural light and ventilation.

The decision to select Broadhall was based on a number of strict criteria including their proven ability to deliver an excellent design, in high quality materials, which are able to make a convincing, contemporary statement appropriate to a city centre location.

Gap funding of £800,000 is being provided by the Assembly Government to
support the project which Andrew Davies, Minister for Economic Development and Transport, described as another example of structural funds making a real difference to Wales.
"It is important that the availability of high quality purpose built office units of up to 5000 sq ft are readily available in or near Swansea city centre to support the growth of indigenous businesses.

" It is essential that the local business community benefits from the SA1 development and these new offices will help create and support a diverse range of innovative enterprises and our funding will ensure the viability of the project."

A decision is expected on the detailed planning application in late May / early June this year (2006), with work due to commence shortly afterwards and occupation being available from mid summer of next year (2007).

Hutchings and Thomas (01633 214444), Knight Frank (029 2049 2492) and Rowland Jones & Partners (01792 648809) are the agents on the scheme .